Ultimate Guide To The Best Dog Camping Bed Australia 2022
Ultimate Guide To The Best Dog Camping Bed Australia 2022
Dogs are a man's best friend and combined with our passion for travel it makes perfect sense to take our four legged friends away with us when we go away hiking or camping. As dogs are such an important part of our family we want to take our dogs wherever we may go whether that is to dog friendly camping grounds or a dog friendly beach.
Having dog camping equipment such as a dog camping bed or dog camping tent or is essential.  Dogs need comfort when away from home and somewhere to lie where they feel, safe, secure and comfortable. There are many dog beds in Australia to choose from and here we have sorted through some of the best dog beds on the market highlighting the key features, so you can get the best dog camping gear for your pooch.
Types of dog camping beds and key features
Now that we know there are plenty of options on the market for dogs beds and dog camping beds we can take a look at what will be the most suitable for your precious pet. As we know canines come in a wide array of shapes and sizes as does the camping equipment so if it is a large dog bed, doggie tent that you are looking or even a large dog bed in extra large there is something for everyone.
A Tent Fit for A Dog King
It comes as no surprise that we love to take their dogs away with us when adventuring so for those who require a bit more shelter for your dog while looking for lightweight and portable then the Dog Tent Bed Camping Canopy will provide excellent protection for your buddy.
This will protect your dog from the elements and also has an inbuilt sleeping bag, so your dog has its own little home for the trip great for dog tent camping.
In the Dog House
If you are looking for a dog house then The Lucky Pet Houndhouse Kennel Flea-Free Waterproof Canvas Dog House in Medium offers a durable, breathable, waterproof and hygienic bed that prevents fleas and stays warm in cold weather. This gives new meaning to being in the dog house.
Dog beds
Provided you have found a dog friendly camping area then you can take your little boy or girl on a wonderful adventure, why should they miss out on all the fun.
The outdoor connection has both the outdoor connection dog bed and outdoor connection fleecy dog mat. The dog bed can fit up to even the largest pooch holding up to 50kg and the fleecy dog mat not only is durable, but it has a polyester sheep skin fleece cover for extra warmth.
The Original flea-free brand really does what it says but offering your dog a critter free bed for its down time. It is also water resistant which is good for all weather conditions.
Last but not least if you dog likes to imitate his favourite human and you need something that you can just roll up and go then the Lifeunion Dog Sleeping Bag Waterproof Warm Packable Dog Bed for Travel Camping Hiking Backpacking is perfect for short trips.
This post may contain affiliate links, which means we may receive a commission, at no extra cost to you, if you make a purchase through a link. Please see our full disclaimer for further information.
Best Dog Camping Beds Australia
Comparison Table
Product Name
Key Features
Cost
Dog Tent Bed Camping Canopy

 

·         This product comes with a storage bag as well as a sleeping pad that snaps into the bottom of the bed.

 ·         This has a pop-up feature for quick and easy set up.

·         Has a lightweight and portable design

Check price!
Outdoor Connection Dog Bed

Up to 50kg weight limit
Polyester with PVC Coating Fabric
Cross webbing support

Check price!
Outdoor Connection Fleecy Dog Mat

 

Has a polyester sheep skin fleece cover for extra warmth?
Elastic straps hook over the corners
Use as a mat with or without the bed

Check price!
Elevated Dog Bed

 

·         The Original – flea-free -Brand

·         Is flea and Water Resistant




·         Reduces Odour and Bacteria Retention

Check price!
Kurgo K01560 Waterproof Dog Bed

 

·         Rufftex waterproof bottom

·         Upper is constructed with our Microtomic ripstop material

·         Convenient handle for easy toting

Check price!
Premium Elevated Dog Bed

 

·         This is easy-fold and portable

·         It is durable and sleek with a string steel frame

·         The Durable Mesh Bed Cover Is Resistant to tear, fleas, mites, mould and mildew

Check price!
Lifeunion Dog Sleeping Bag

 

·         This bag can be rolled up when not use, easy to carry and store.

·         The thick bag will provide warmth and protection from hard, cold surfaces




·         It is multi-function and can be used as an outdoor dog sleeping bag for camping or a soft bed mat cushion at home and backyard

Check price!
Lightspeed Outdoors Self Inflating Travel Dog Bed

 

·         The inner foam mattress self inflates with a twist of a nozzle; adjustments can be made by blowing air in or pushing air out

  ·         It is machine washable puncture resistant and water resistant

·         Built in nylon buckle straps for easy storage and transport

Check price!
Canvas Dog House
– Scratch resistant, the proofing in the canvas waxes up causing a glaze over the surface
– Lightweight & Collapsible
– Portable and comes with a carry bag
Check price!
Double Door Dog Crate
Easily Sets Up & Folds Down to Portable Size
Foldable for easy transportation and storage
Double Door – one on the end, and another on the side
Check price!
Best Dog Camping Bed Australia
If you are looking for instant shelter for your dog then this canopy is great for outdoor usage, with UV protection and attachable sleeping bag you have the elements covered.
Click here to check the price now!
This is a strong and durable dog bed, with PVC coating fabric and cross webbing support tis bed is easy to assemble and is a great spot for your pooch at the campfire.
Click here to check the price now!
If you are looking for something strong, sturdy but with an added bit of luxury for your dog then the Outdoor Connection Dog Bed with the Fleecy Dog Mat is perfect for your dog to get warm and snuggly on crisp camping nights.
Click here to check the price now!
The Flea Free elevated dog bed not only is comfortable and friendly on the pocket by is has a strong black coated steel frame making a great choice for your fur baby.
Click here to check the price now!
The Kurgo K01560 Waterproof Dog Bed is the perfect outdoor bed for your dog. Coming in the vibrant colour chili red, this bed simply rolls out for maximum convenience.
Click here to check the price now!
If you are looking for an elevated dog bed to keep those paws off the ground and give your dog his own special place to relax after a hard day exploring then this dog bed has a flexible surface which provides comfort to your babies joints. It also looks super sleek and is easy to fold.
Click here to check the price now!
The Lifeunion Dog Sleeping Bag is a great if you are looking to travel minimally when heading out into the wilderness. Just pack it away and it won't take up too much space perfect for long hikes and because it is also waterproof you can ensure doggy stays dry, if it wants to.
Click here to check the price now!
This self inflating dog bed works a treat while travelling with your pet. It is super comfortable and has durable puncture and water-resistant polyester mattress base and cushioned sides. This bed is perfect for transporting everywhere from boats to camper vans.
Click here to check the price now!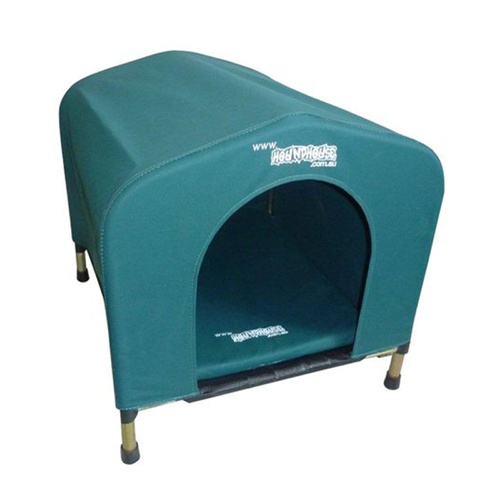 If your fur baby loves nothing more than to gnaw on anything it can find then this canvas dog house is coated with taste that dogs do not like which means that it is not only durable but will be lasting item in your camping equipment. This bed has been made for the ultimate comfort for all sizes dogs.
Click here to check price now!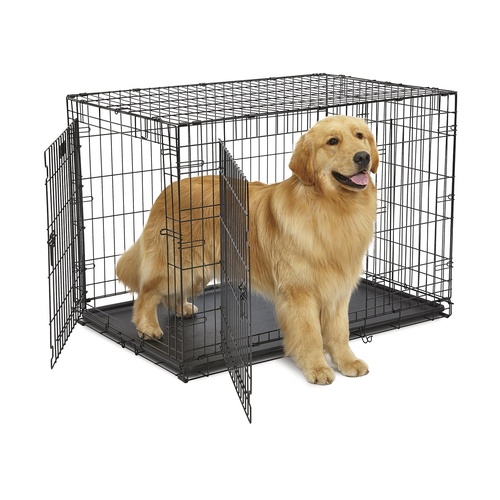 This crate is simply designed and great for transporting your dog over distances in a secure and convenient way. If you are moving home or need to transport your dog on the back of your truck or 4WD then this is the perfect option.